Ik moet toegeven, ik begon in 2011 met tegenzin aan Domestic Violets van Matthew Norman. Ik had het ontvangen als een ARC van de American Bookstore in Amsterdam en zij publiceerden uiteindelijk ook de onderstaande review op hun blog in de review afdeling. Dit was in 2011. Maar ik heb begrepen dat Matthew Norman een tweede boek uit gaat brengen in 2016. We're all Damaged. Yeah! Tijd dus om deze recensie af te stoffen en opnieuw te publiceren. In afwachting van zijn nieuwe boek. Meisjes, als je een prettig boek wilt lezen dat je aan het lachen krijgt én aan het huilen: lees Domestic Violets! Echt, je krijgt er geen spijt van! En ik heb gezocht, maar vooralsnog is het alleen verkrijgbaar in het Engels.
Domestic Violets
Van de beschrijving had ik begrepen dat het een "mannen"boek was. Daardoor was het niet mijn eerste keus om te recenseren. Maar ik had er niet verder naast kunnen zitten! Vanaf het eerste hoofdstuk kreeg Matthew me aan het lachen. En dit hield niet op, ook niet in de trein of tram, waardoor medepassagiers me verstoorde blikken toewierpen.
Even een side note: Waar komt die ergernis van medepassagiers eigenlijk vandaan? Is het jaloezie, omdat ze zelf niets te lachen hebben? Is het nieuwsgierigheid omdat ze willen weten waarom ik lach?
In ieder geval, het bleef niet bij lachen. Op sommige momenten merkte ik dat hij me ook aan het huilen kreeg. Nee, geen spoilers! Lees zelf maar!
Huishouden met een twist
Eigenlijk is het een boek over een degelijk huishouden. Tom Violet (duh, vandaar de naam!) is eigenlijk een normale man, met een normaal gezin. Je kent het wel: Vrouw, kind, baan waar hij een hekel aan heeft, maar ja, het brengt brood op tafel en betaalt de hypotheek. En oh ja, een vader die wel heel moeilijk te negeren is. En net als iedere normale man met een degelijk huishouden, komt ook Tom in de verleiding om aan dat keurslijf te ontsnappen. Maar hij is daarom niet minder leuk! Je wilt hem eigenlijk bij de hand nemen om de moeilijke hobbels die op zijn pad komen strak te strijken. Hij is echt zo leuk. En zijn strijd met zijn ouder wordende ik is realistisch beschreven. En met humor.
Grappig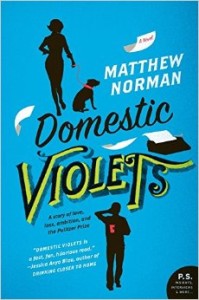 Hoewel de situaties heel herkenbaar zijn, zijn het de karakters die het boek maken. We weten allemaal dat een midlife crisis tot problemen kan leiden. En dan is de aankoop van een Harley nog een simpele oplossing. Maar de humoristische wijze waarop Matthew Norman verhaal doet van de strijd van Tom is hilarisch. Het is snel en grappig geschreven, zonder ooit dramatisch te worden of onrealistisch. Zijn stijl doet me denken aan Olivia Goldsmith. Maar dan de mannelijke equivalent. Intelligent en humoristisch. En een verademing om te lezen.  Iedereen die in een relatie is, of is geweest (langer dan een paar weken wel te verstaan!) kan zich herkennen in dit boek. Mannelijk of vrouwelijk. Meisjes: lees dit boek!
Recensie: Domestic Violets door Matthew Norman