Ik kom er maar eerlijk voor uit: ik geef de voorkeur aan de Kerstman. En dat is niet dankzij, maar ondanks mijn katholieke opvoeding.
FunFact: Sint Nicolaas is Katholiek en komt uit Turkije. 
Mijn opa en oma waren hardwerkende mensen. Ze hadden niet veel, maar alles wat ze over hadden ging naar de kinderen. En later de kleinkinderen. Dit betekende dat mijn oma al in mei alle markten aan het afstruinen was naar kado's. Als er maar op 5 december zakken vol kado's binnen kwamen. Het waren geen Playstations en iPads. Het was prullaria. Briefpapier voor de meisjes, plastic vliegtuigjes voor de jongens. Onzin kado's. Maar mijn grootouders spaarden er het hele jaar voor. We leefden er als kleinkinderen ook naartoe. Als mijn nichtje een kadootje uitpakte dan wist ik dat ik met het volgende pakketje hetzelfde kreeg. Want er was voor mijn opa en oma geen verschil tussen de kleinkinderen: ze kregen allemaal hetzelfde.
FunFact: Sinterklaas deed het eeuwenlang zonder de hulp van Zwarte Piet. De laatste werd pas in 1850 toegevoegd aan het gevolg.
En zolang er nog een (achter)- kleinkind  was dat geloofde, was er ieder jaar een ECHTE Sinterklaas. Met Zwarte Pieten! Inclusief het bonken op de deuren, pepernoten en ranzige mopjes voor de volwassenen. Ik wil hiermee maar zeggen: het is niet mijn opvoeding waardoor Sinterklaas het bij mij thuis aflegt tegen de Kerstman. De oorzaak daarvoor ligt bij de evolutie die de Sint heeft doorgemaakt. Hij heeft zich vrijgevochten van het geloof en zich onder invloed van Mrs. Claus een beetje laten gaan. Van strenge bisschop tot vrolijke dikkerd. Van woestijnbewoner tot noordpool avonturier.
Een kleine geschiedenisles

Sint Nicolaas werd geboren in Antalya, Turkije, wat toen nog Patara in Lycie was en in 280 onderdeel was van het Romeinse Rijk. Hij werd de bisschop van de hoofdstad van Lycie: Myra. Zijn sterfdag: 6 december 342. Vanaf die tijd werd op diverse wijze Sint Nicolaas geëerd. Het vieren van Sint Nicolaas varieerde van het zogenaamde Klaaslopen, waarbij Sinterklaas als boeman langs de huizen ging, tot het weggeeffeest zoals we dat sinds de Tweede Oorlog vieren. De datum waarop Sinterklaas werd gevierd verschilde eveneens per regio. Van pakjesavond op 5 december tot de Kerstdagen, Sint Nicolaas had een lange aanloop nodig.
FunFact: Sint Nicolaas lag tussen 1600 en 1900 onder Protestants vuur. Het was in sommige plaatsen verboden om je schoen te zetten of Sinterklaas lekkernijen te verkopen.
Sinterklaas emigreert naar Amerika
Met de emigratiegolf naar Amerika verhuist ook Sinterklaas mee. En zoals zovelen kreeg de nieuwe inwoner op Ellis Island een nieuwe naam.  Werd Vito Andolini nog Vito Corleone, Sint Nikolaas werd St. Nick. In 1823 verschijnt in de New York Troy Sentinel een gedicht, van anonieme bron: "A Visit from St. Nicholas.". Het begint zo:
'Twas the night before Christmas, when all through the house
Not a creature was stirring, not even a mouse;
The stockings were hung by the chimney with care,
In hopes that St. Nicholas soon would be there; 

Later gaat het verder:
With a little old driver, so lively and quick,
I knew in a moment it must be St Nick.
More rapid than eagles his coursers they came,
And he whistled, and shouted, and called them by name!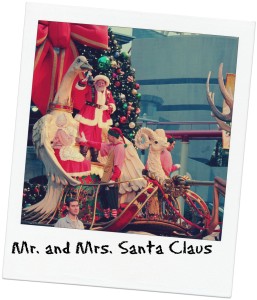 Je kunt de introductie op de Kerstman in het geheel lezen bij UrbanLegends.about.com. Het is een vermakelijk gedicht, waarin je kennis maakt de kerstman zoals we hem nu kennen. Een vrolijke man, die arriveert in een slee, getrokken door rendieren en gevuld met kado's. Er is een levendig debat online wie "Een bezoek van Sinterklaas" heeft geschreven, Majoor Henry Livinston, een dichter met een Nederlandse moeder of Clement Clark Moore, die het in een bundel opnam in 1844. Een van beiden heeft ons de Kerstman gegeven zoals we die nu kennen. En zeg nou zelf:
Mijter vs Bontmuts
Zwarte Piet vs Elfjes
Myra vs Noordpool
Stoomboot vs Arreslee
Amigo vs Rudolph
NL vs De Wereld
Oh ja! En dan de keuze tussen de Pakjesboot of de Coca Cola truck. Zo moeilijk is de keuze toch niet?
TL;DR: De hele Zwarte Pietenkwestie is eenvoudig op te lossen: laat Santa Claus remigreren!