Holy shit. I did it! I still can't believe it. I actually ran my first marathon. In New York. And it was such an overwhelming experience that I till this day, have a hard time finding the right words that will do justice to that wonderful day. I ran my first marathon in 5 hours 40 minutes. That is 15 minutes slower than I anticipated, but who cares? I actually finished the thing. Every 42 kilometer, even those 200 meters required to cross the line. 
This is such an amazing event, I can recommend to it to everyone! And if you don't want to run, be a supporter for a day. Just be there!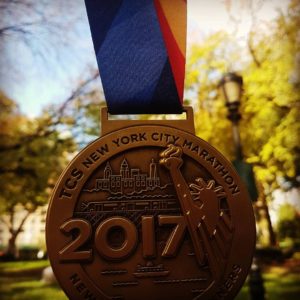 I've got it! That hard fought 1st marathon medal. This is one thing I feel everyone should experience. The positive energy that comes with running is quadrupled with this marathon. Not only because of the running and finishing, but also those awesome supporters. There is nothing to compare it with. And no, to silence those nay-sayers right now: It doesn't have to be bad for your body.  I didn't train myself to death. My schedule had a healthy build up, I trained on heartrate and used breathing exercises to control my heartrate. And I didn't train longer than 14 kilometer. It worked! My injuries kept quiet. I hardly had any difficulties once I started with this program.  And my mind, which I expected to give me the greatest struggle, didn't get any chance for mischief during those 42k. The people cheering and cowbelling were awesome and kept my mind from wandering. So, wasn't it tough? Of course it was. I was warned that the first bridge we had to cross, the Verrazano bridge not only was long, but would be quite steep. And it would be the first of 5 bridges in total. So yeah, it was tough. For me the last 3 kilomter were the hardest. In Central Park, you can hear the finish line approaching, but it's getting dark. You realize just for how long you've been running. And it's a climb. Again. My legs weren't grateful on that point of the course. It's not something we can actually train for over here in our flat country.
The hours waiting on Staten Island, in the cold, were the hardest for me. It was a 4 hour battle with my nerves. 
The toughest part? That would have been the hours waiting in the Starters Village at Fort Wadsworth on Staten Island. The bus of my travel agent, Marathon International, collected us at hour Brooklyn hotel at 05h45. My start, wave 4, would be at 11h00. You probably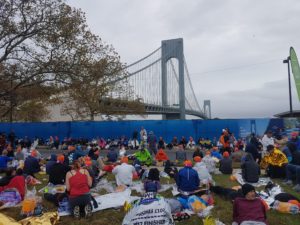 ask yourself, why so early. Imagine 58.000 people all traveling to the same starting point. And then roads being closed because the same 58.000 have to track back again on foot. You probably can understand and apreciate the enormous logistics involved in this operation. And so there I was at 06h30 on Staten Island, eyeing that imposing bridge. Still a bit sleepy. Breakfast in my bag. All the time in the world to let your mind wander. And get nervous. I cheated with my schedule and ran a half marathon in September.  I knew I was able to run 21k. But still, until you reach the finish you don't know do you? Did I train enough?  How did the jetlag influence my fitness? Can I do this? Will my stomach hold out? How the hell did I end up here? Luckily there is lots to see in Starters village. There are therapy dogs. Those dogs really work miracles on the mind. Noticing the lines I knew I wasn't the only one battling my nerves. There is Dunkin' Donuts, handing out coffee and tea. And hats! I'm still bummed I lost my Dunkin' Donuts hat somewhere along the route! I know, there are worse things, but that hat had the official NYC Marathon emblem embroidered on it! I would have loved to take one home to the Netherlands.
This year 39.000 kilo of clothing went to Goodwill. The quantity is dependent on the weather. In 2014, a very cold and windy day, Goodwill collected  a whopping 94.000 kilo of discarded clothing in New York. 
Talk about clothing. It can be chilly if not downright cold in New York in November. It is therefore not wise to countdown the hours in a running top and capri at 7 in the morning. So I had extra layers over my running clothes. Legwarmers, gloves, blanket, bin liners to sit on, old pants that were on the ballot for recycling anyway. An old fleece. And since I was not the only one doing this, you'll find clothing bins everywhere on Staten Island. Meant to drop your layers in of course, but as you can see on the picture below, lots of runners just ditch their extra clothes on the side of the road at the start. Volunteers will collect them after the last start wave. This year 39.000 kilo of clothing got collected. A bit less than last year, but the quantity depends on the weather during the marathon. The super cold and windy marathon year 2014 brought a stunning 93.893 kilo of clothing to Goodwill.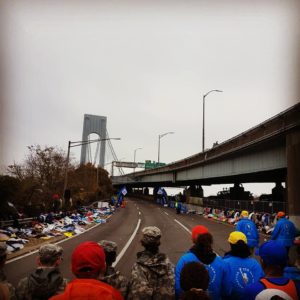 During your wait you can eat your own breakfast, if you brought any. Or you can get in line for the toilet. Or you can get a bagel at Dunkin' Donuts. The Brooklyn Fairfield Inn served fresh baked bagels every day, from a local bakery. Delicious. So were the eggs, and the vegetarian sausages. And the fresh fruit. So, despite the early hour, I had a warm bagel with eggs and bacon. Little did I know  my ITP, Marathon International, provided a breakfast to go to digest in the bus. So between the hotel, my ITP and Dunkin' Donuts there was no shortage of food.
Or you can watch the first waves go to their corrals. At 09h30 the first wave started: the elite runners. They would be finishing around the time I was crossing the Verrazano bridge. With 58.000 runners, the NYC Marathon is very efficiently organized in 4 waves, each with 5 groups. I was starting in the last wave,  the first group. I've got nothing but admiration for the organization, the efficiency and the enthusiasm of the thousands of volunteers.
The TCS NYC Marathon is, with 58.000 runners, the biggest marathon in the world. The efficiency of the organization is admirable. But that also goes for the entusiasm of the thousands of volunteers and millions of supporters.  
At 11 sharp the wait was over. I put my first steps on the Verazzano bridge and off we were. It was an emotional moment. And from that point on my nerves were gone. I ran 5,5 hours straight, with a smile on my face. What an experience! Supporters can follow their runners on the NYC marathon app. With an update every 5k, the app is quite accurate in the positioning of the runners.  That's how my daughter found me, not once, but three times on the course. Once on 3rd Ave in Brooklyn, once in Queens and the last time in Central Park. It was so good to see a familiar face! That moment was priceless.
I had my name on my chest, so there was no shortage of high fives: Come on, Karin, you can do it! You look strong, Karin! Looking awesome, Karin, you'll make it. 
If you put your name clearly visible on your front, there will be no shortage of support. The New Yorkers are tireless, even after dark. And they encourage every runner out there! . "Come on, Karin, you can do it!" " You look strong, Karin!" "Almost there, Karin, smile!". It goes like this:

But still, the moment I saw the proud face of my daughter just got me through the tougher parts of the course. Especially in Central Park where my legs had a hard time. The last 3 kilometers, up and up, in the dark, curve after curve without showing that finish line: it was tough. I don't think it matters how many times you finished a marathon. That moment you'll cross the finish line will always be emotional. For me it's 21k farther than I ever ran. It's what I trained for, tried several programs for. All to make sure I wouldn't start with an injury.  I've ran through illness, got disappointed because my own body let me down. But I also got to know incredibly nice and positive people. Like Runar Gunersen, who tirelessly helped us newbies out with great advice.  Or Gwenda Jansen, who started her Positive Power movement.  She decided to make a documentary that will be a visual tribute to the positivity of the runner. The stories that I've heard were all moving. So yeah, I was emotional when I crossed that finishline.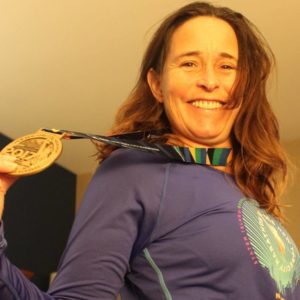 The NYC marathon 2017 was all I expected it to be when I entered in February. And more. Every kilometer was a party. A hard fought one, but it was a party. And one I can recommend to anyone. If not as a runner, participate as volunteer or as supporter. Really, it's worth every step of the way!
The NYC Marathon: I really, REALLY, did it!