Wakker worden met een paar borsten die overnacht gegroeid zijn van een A naar een C? Ha! Daar zou ik twintig jaar geleden een moord voor gedaan hebben. Zeker als er geen narcose voor nodig is. Maar nu? Ik ben nu al blij als ik een nacht door kan slapen en geen nieuwe rimpel of puistje ontdek de volgende morgen. Een paar borsten die aanvoelen of ik een weeshuis in leven kan houden met een borstvoeding? Nee dank je!
En nu niet denken dat ik overdrijf. De pijn is exact gelijk aan de pijn van stuwing na een bevalling. Alleen duurt deze pijn een paar weken, in plaats van twee nachten. Twee weken niet op mijn buik slapen. Pijn bij het sporten. En dan heb ik het nog niet over de onzekerheid: ik zal toch niet zwanger zijn?
FunFact: 69% van de vrouwen heeft last van pijn in de borsten vlak voor de menstruatie.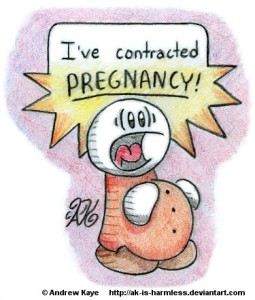 Het is verre van grappig als je op je vijftigste nog een zwangerschapstest doet, omdat je borsten je het idee geven dat ze in voorbereiding zijn op een nakomertje. Zo'n test is al stressvol op je twintigste. Hoe denk je dat het voelt, als je je er al lang bij hebt neergelegd dat je baarmoeder aan pensioen toe is?
Maar het is nu eenmaal zo dat de verandering in mijn borsten gelijk is aan de wijzigingen tijdens mijn beide zwangerschappen. Dus een zwangerschapstest is dan de enige mogelijkheid om zeker te zijn dat je lichaam je voor de gek probeert te houden. Zo'n thuistest voorkomt ook een genant bezoekje aan de huisarts, kan ik je vertellen.
FunFact: De menopauze is de dag dat het precies 12 maanden geleden is dat je menstrueerde. 
Bij mij duurt de pijn de afgelopen paar menstruatie cycli twee weken, waarna de borsten het stokje doorgeven aan de stekende buikpijnen. Het lijkt alsof het lichaam moeite heeft met afscheid nemen van de vruchtbare jaren. De pijnlijke borsten zijn een symptoom van het rouwproces. Een wanhopige poging om nog heel even twintig jaar te zijn. Er is een troost: bij mij blijft het klierweefsel zich voorlopig nog normaal gedragen. Er zijn ook vrouwen waarbij de klierweefsels onregelmatig of knobbelig aan gaan voelen en waarbij er vocht uit de borsten komt. Ik heb alleen pijn. Niks wat een paracetamol niet kan oplossen. Na jarenlang klagen over dat A'tje ben ik eindelijk de trotse eigenaresse van een C-paar. Hoera voor de overgang!
TL;DR:  De pijnlijke borsten zijn een teken dat het lichaam nog wanhopig wil vasthouden aan de vruchtbare jaren.
Help! Mijn borsten doen pijn!