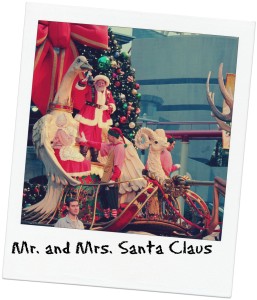 Ik ga een geheimpje verklappen. Eentje waar ik eigenlijk niet voor uit durf te komen.
Vooral niet omdat mijn oma en opa er heel veel aan gedaan hebben, om mijn liefde voor Sinterklaas te voeden. En ik ze heel erg dankbaar ben voor al die geweldige 5 decembers die ze mij gegeven hebben. Ze zouden zich omdraaien in hun graf als ze het wisten. Maar ik kom er toch niet onderuit:  Ik vind de Kerstman leuker dan Sinterklaas.
Ik heb het gevoel alsof ik nu virtueel dekking moet zoeken. Omdat Sinterklaas tot iets heiligs aan het worden is in Nederland.
Is het het gebrek aan religie waardoor ik de Kerstman sympathieker vind? Nee, ik denk het niet. Het komt door die Noordpool. Veel romantischer dan Myra. Toch? En die elfjes als "Santa's Helpers" spreken toch veel meer tot de verbeelding dan Zwarte Piet. Maar als klap op de vuurpijl is daar natuurlijk de slee! Volgeladen met kado's en getrokken door de rendieren. Landend op de daken. Hoeveel leuker dan een Stoomboot. Of een paard.
New York Troy Sentinel, 1823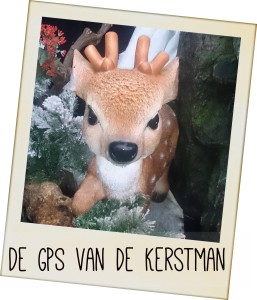 Ken jij ze? De rendieren van Santa Claus? Alle acht? Even een literaire opfriscursus. Het jaar was 1823 en de wereld maakte kennis met de kerstman en zijn rendieren dankzij een gedicht in een plaatselijke krant, de New York Troy Sentinel. Op de volgende wijze werden de rendieren aan het wereldpubliek voorgesteld:
"Now Dasher! now, Dancer! now, Prancer and Vixen!
On, Comet! on, Cupid! on Dunder and Blixem!
To the top of the porch! to the top of the wall!
Now, dash away! dash away! dash away all!
Dat zijn toch mannelijke namen, zou je zeggen. "Onmogelijk!" zeggen de wetenschappers. Het departement van Vis en Jagen in Alaska laat weten dat tegen eind december, de meeste mannelijke rendieren geen geweien meer hebben. Het zijn de vrouwtjes die de geweien pas verliezen in de lente, wanneer ze bevallen zijn. Het lijkt er dus op dat de schrijver van het gedicht niet op de hoogte was van de biologische aspecten van het rendierdom.
Want de Kerstman heeft nog een reden om vrouwelijke rendieren in te huren. Eind december hebben de meeste Rendierstieren nog geen 5% lichaamsvet. Ze hebben het meeste vet dan namelijk verloren tijdens het hoog aerobische paringsseizoen. Vrouwelijke rendieren behouden tot wel 50% aan lichaamsvet, wat hen een betere kandidaat maakt om de nachtelijke temperaturen aan te kunnen die ze tegenkomen tijdens die koude Kerstnacht.
De rendieren van de Kerstman zijn vrouwtjes
Ik weet het, het doet pijn. Maar Dasher, Dancer, Prancer, Vixen, Comet, Cupid, Dunder en Blixem zijn toch echt vrouwtjes. Of wacht. Er is nog een andere mogelijkheid: Het zóu kunnen dat de Kerstman gecastreerde mannetjes heeft in gehuurd. Zij verliezen hun geweien namelijk gelijkertijd met de vrouwtjes. Maar ergens kan ik mezelf er niet toezetten dat de Kerstman dit de mannetjes rendieren zou aandoen. En geloof ik liever dat de schrijver van het gedicht zich niet bewust was van het emancipatorische aanneembeleid van de Kerstman.
TL;DR: De Kerstman was zijn tijd ver vooruit met zijn vrouwelijke GPS Systeem.
De Rendieren van de Kerstman: man of vrouw