I honestly believe I finally did it. After years trying to beat the habit, I finally am convinced that I made it. How I know? I passed a small group of smokers on my bike earlier today and I was disgusted with the smell. Me! I actually was relieved to know I don't smoke anymore. As of today I quit 240 days ago and now I can't even imagine myself being a smoker. And I was a chain smoker. I started smoking at 18. First twenty a day, then forty. During the days one was still allowed to smoke at work, I used to smoke 60 a day.
FunFact: Since January 2004 everybody in the Netherlands has a right to a smoke free working place. The smoke free hospitality business followed suit 4,5 years later, in July 2008. (Source: Kenniscentrum Horeca)
Oh boy! Those were the days! You could find full ashtrays in all the offices. It was completely normal to have a forgotten cigarette burning in the ashtray. Sometimes you even lit a new one, because you'd forgotten you had one lit already. During a 10 hour flight to New York you would spend the flight all fogged up because of the smoke. The chairs in the train had ashtrays built in. At birthdays a good hostess would put cigarettes on the table. Of all brands. Even better, the same thing happened during business meetings. Ever watched Mad Men? It paints a very accurate picture of how smoking was incorporated in every day life.
Tip: It is advisable to avoid the following series if you just quit smoking: Sons of Anarchy, Mad Men, Boardwalk Empire. Just saying.
The norm has changed through the years. I remember the enormous fuss about the smoke free hospitality law in 2007. Every restaurant or cafe owner was afraid of losing income because of it. Now, 8 years after the fact, we can't even imagine enjoying our diner surrounded by smoke.
FunFact: Every year about 1 million Dutch smokers try to quit. Ex smokers have an average of 2,5 attempts before it finally works.  (Source: Trimbos)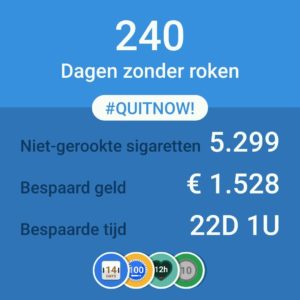 For me it has been a struggle for years. I surpassed the 2,5 attempts by far. -sidenote: how you get to try a half attempt? Does a half attempt even exist? – And no, although I honestly believe I made it, it wasn't an easy road. I had trouble sleeping for a short period. Especially in the beginning, I used to dream about smoking. It took me the rest of the day to fight the urge to light one. And as every ex smoker can attest: there is no such thing as one cigarette. That one cigarette will always be the beginning of what will be a failed quitting attempt. Believe me, I'm an expert in failed quitting attempts. Every time I failed, it started with one cigarette. Really, that was all it took to fail: just the one cigarette. Because two days later I would ask my colleague another one. Next thing you know you are ashamed you asked one, so you buy a package. It will keep you sane for two weeks. Right!? But who was I really kidding. After two weeks I would be smoking twenty cigarettes again. After a month it will be forty. The shame is a bonus. The only reason I could do it now is because I didn't give in to that one cigarette. In the beginning I was thinking about smoking all day long. But it got better after a week. After a month I had only moments that I wanted to smoke. It never lasted long, it passed. And I did feel stronger because of it, every time I didn't lit one. Or asked one. Even if I really, really wanted to. Friday nights were rough for a bit longer though. The end of the working week. Relaxing with a book and a nice glass of wine. Those were my roughest moments. And they lasted for two more months. And now? It is only seldom I get the urge. Believe me, if I can quit smoking, you can too!
If I can quit smoking, you certainly can!