Het is zover! Ik heb mijn Lente Fitness Challenge afgesloten. Weet je het nog? Zes weken geleden kondigde ik aan dat ik de oorlog had verklaard aan mijn boventallige kilo's. Op 5 mei had ik een check-in bij de plaatselijke sportschool en het doel was om 8% vet af te schudden en sterker te worden. Als ik tijdens dat proces nog zou afvallen, zou dat natuurlijk mooi meegenomen zijn. Want de 14 kilo die zich vastberaden hadden vastgebeten in mijn lichaam, begonnen in de weg te zitten. In overleg met mijn coach kreeg ik een schema, waarbij ik twee keer per week werkte aan het versterken van mijn hardloopspieren. Gelijkertijd doe ik ook mee aan de challenge van Mark Zuckerberg, die nog tot december 2016 duurt. Dus de afgelopen zes weken werkte ik in een schema van twee keer per week hardlopen en twee keer per week fitness in de sportschool. Het resultaat zie je hieronder: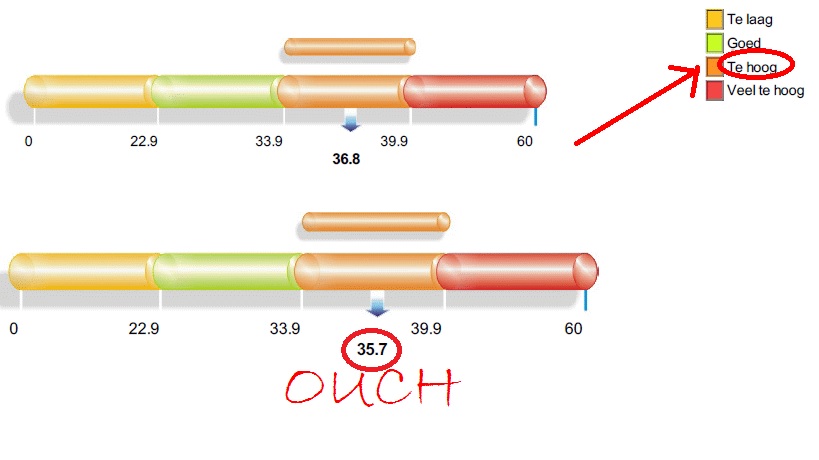 Het resultaat is op zijn minst weinig motiverend te noemen. Niet alleen ben ik tijdens de zes weken van de Fitness Challenge geen kilo's kwijtgeraakt, mijn vetpercentage is ook niet teruggebracht naar een veilige 33.9. Dat is op zijn zachtst gezegd teleurstellend. Of toch niet? Want als we nou eens goed naar ALLE cijfers kijken en de kilo's laten voor wat ze zijn, kan ik wel een aantal positieve conclusies trekken. Genoeg om ervoor te zorgen dat ik niet huilend onder een deken wegkruip met een bak Ben&Jerry's.

Toen ik begon met de Fitness Challenge zat mijn conditie, dankzij het hardlopen, al op een Elite score. Dit betekent dat er weinig ruimte was om mijn conditie te verbeteren. Maar als je het eenzijdig doet, dus zonder versterkende oefeningen en cross trainingen, dan loop je het risico op blessures.
Mijn longinhoud, zuurstofinhoud, hartslag en bloeddruk lieten zien, wat ik al wist: hardlopen is goed voor je.
Helemaal als je lichaam ook al in oorlog is met de hormonen. De overgang met de daarmee gepaard gaande hormoonschommelingen maakt het lichaam extra gevoelig voor blessures. Door in de sportschool mijn spieren te versterken heb ik de afgelopen zes weken kunnen hardlopen zonder pijn in de knieën, zonder pijn in de schenen of kuiten, kortom, het hardlopen viel me makkelijker. Dat niet alleen: ik kon ook verder lopen.
Zie je dit? Hier loop ik vijf kilometer in bijna 39 minuten. Op een rustige zondagmorgen. Dit was zo ongeveer mijn looptempo voordat ik begon met trainen in de sportschool. En kijk nu eens wat ik afgelopen vrijdag heb gedaan, nadat ik uit mijn werk kwam:
Niet alleen heb ik 8 kilometer gerend, iets wat ik een paar weken geleden niet had kunnen dromen, maar ik deed dat ook nog eens in 50 minuten. Waar ik twee maanden geleden nog 39 minuten deed over 5 kilometer, kan ik dankzij mijn krachttraining niet alleen verder lopen, maar ook sneller. Zonder pijn. Achter elkaar. Zonder wandelpauzes. Dat is eigenlijk best iets om trots op te zijn, bedenk ik net. Genoeg om positief te zijn over die 10 kilometer die als een zwaard van Damocles boven mijn hoofd hangt.
Want laat ik dat vooral niet vergeten: de handschoen van Mark Zuckerberg heb ik wat al te enthousiast opgepakt. Op 10 juli ren ik mijn eerste 10 kilometer ooit. Ik! En ik ben nog nooit verder gekomen dan 8 kilometer. Maar dankzij mijn coach op de sportschool heb ik er alle vertrouwen in dat ik daar zonder kleurscheuren, of blessures, doorheen kom.
Ik heb mezelf beloofd dat ik zal finishen.
Wat er ook gebeurt! Met een glimlach op mijn gezicht! Wat kan het iemand in vredesnaam schelen of ik wel of niet kilos kwijtraak? Ik kan 10 kilometer achter elkaar hardlopen!
De Fitness Challenge en wat het mij bracht