Today I received the message that Matthew Norman will be publishing his second novel. Yeah! I received his first novel as an advanced reader copy through American Book Store in Amsterdam. And they published my review in their review section in 2011. Time to dust off that review and publish it here again. Maybe even read Domestic Violets again. In anticipation of his next novel We're all Damaged. Girls! You all should read Domestic violets. You won't be disappointed.
Domestic Violets by Matthew Norman
It definitely wasn't the first on my list to review and the way it was described, I got the notion it was a man's book. That was the reason I was bit reluctant to begin with Domestic Violets. Boy was I wrong! From the first chapter Matthew Norman had me laughing. Laughing loud enough for fellow travelers to give me annoying looks. And yes, at some point I even found myself crying.
On a side note: why is that fellow travelers get annoyed with someone laughing? Is it because they don't have anything to laugh at themselves? Is it because they are curious about the reason for laughing? Can't someone just be laughing?
Domesticity with a twist
Basically the story is a very domestic one. Tom Violet is, well, kind of a normal guy, living the average life. Wife, kid, a job he hates and a father who's difficult to ignore. And like every man living the average life, he gets tempted to step out of the box.
Tom is the kind of guy you want to take by the hand to lead him past the difficult bumps in the road. He's that cute. And his agony is real. Even I feel his pain. Now there's a feat! Who would have guessed the female reader could identify with a man who has difficulty performing with his wife? Shouldn't it be the other way around? Well, that's how clever Matthew Norman has written it.
Funny as hell
But it's not so much what's happening, that's so special about this book. Because we all know a midlife crisis may lead to trouble. This book is extraordinary because of the characters. And the humorous way their struggle with life is told. It's fast paced and funny, without ever becoming over dramatic or unrealistic.
Matthew Norman's style reminds me of Olivia Goldsmith, oddly enough. Albeit the male equivalent. Witty and intelligent, but most of all, a delight to read. Anybody who's ever had a relationship (longer than a couple of weeks!) can relate to the story, man or woman.
If this debut is anything to go by and Matthew Norman keeps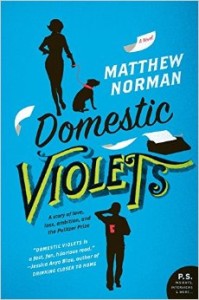 up with this style Harper Collins may have a bestseller writer in its stables. And now I hear that is gonna happen! Matthew Norman is publishing his next book June 2016. I for one can't wait for his next book!
Review: Domestic Violets by Matthew Norman