Okay meisjes, tijd om even te stoppen met wat je doet en de badkamerkastjes te doorzoeken. En als je dan toch bezig bent, kijk dan meteen even in je handtas. Pak je leesbril en check de flesjes deodorant: zit er Aluminium Chloorhydrate in? Parabenen? Deze stoffen zouden kankerverwekkend zijn. Maar heeft het echt zin om alles uit je kastje weg te gooien waar deze stoffen inzit? Of is dit allemaal paniekmakerij om niks, een hoax?
FunFact: Het scheren van de oksels verhoogt niet – ik herhaal: NIET – de kans op borstkanker. (bron: The American Cancer Society – 2014)
Het is een hardnekkig gerucht dat vooral vrouwen in de overgang raakt. Dat sommige stoffen in deodorant kanker zouden veroorzaken, bedoel ik. Want juist die hormonale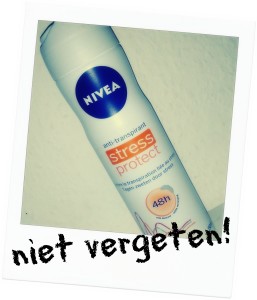 veranderingen tijdens de overgang hebben een enorme invloed op de lichaamsgeur. Eens komt de dag dat een onaangename geur je neus bereikt en dat je denkt: "oh jeee, ben ik dat?". Dat je omslachtig je omgeving checkt en als je denkt dat niemand kijkt, duik je half onder je bureau om nog snel even extra te checken. "Dat zal ik toch niet zijn!". Gelukkig hebben we allemaal een reisflesje deodorant in de tas zitten. Toch? Maar dan blijkt dat de vertrouwde deodorant volzit met stoffen die schadelijk voor onze gezondheid zouden zijn. Ouch. Wat nu? Geen deodorant gebruiken? Ha! Geen optie!
De emails zijn een Hoax
Volgens het KWF, het Nederlandse Instituut voor Kankerbestrijding is er niets waar van de geruchten dat deodorant schadelijk is. Het KWF gaat met haar berichtgeving uit van onderzoeken die in Amerika zijn uitgevoerd door gerenommeerde instituten en waaruit blijkt dat er geen enkele relatie is tussen het gebruik van deodorant of antitransparant en het ontstaan van kanker.
FunFact: Parabenen zitten ook in lippenstift, mascara, concealer, foundation, zonnebrand. Als je bang bent dat parabenen een verhoogd risico op kanker geven, gooi dan de rest van je beautycase ook gelijk even leeg.
Ook niet als we onze oksels opfrissen met deo na het scheren. De kleine wondjes die ontstaan als je je oksels scheert, verhogen op geen enkele wijze de opname van de parabenen. De opname van Aluminium Chloorhydraat bestaat uit een fractie van wat wordt opgespoten: 0.012%. Het blijkt gewoonweg heel moeilijk voor de parabenen en voor het Aluminium Chloorhydraat om het borstweefsel te bereiken. De geruchten zijn ooit ontstaan door een e-mail die in Amerika werd verspreid door een onverantwoordelijk persoon. En je weet hoe het werkt met dat soort berichten: voor dat je het weet staat het overal op Facebook en Twitter en zie je het bericht zo vaak dat het bijna wel waar móet zijn. Maar ik gooi mijn anti transparant niet weg. Ik vertrouw erop dat het Kanker instituut goed voorlicht en op haar achterste benen had gestaan als er ook maar een schijntje van een aanwijzing zou zijn dat deodorant kanker kan veroorzaken.
TL;DR: Okselfris in de overgang verhoogt niet het risico op borstkanker
Over de veiligheid van deodorant en hoaxes