Finally! It's time to pack my bags. In exactly one week time, I'll be trying to get some much needed sleep right before the bus will collect us runners and make sure we make it to the start on time. At 05h30. Yeah, you read that right: at half past five in the morning the bus will bring us to Staten Island. I'll be starting at 11h00, so that will leave me plenty of time to ask myself what in the hell I was thinking when I signed up.
What the hell was I thinking when I signed up for this thing?
Should I have accumulated more miles? Faster miles? More running days? Should I have done more strength training? More yoga?  I should have eaten healthier. Shall I take another coffee or will I dehydrate too soon then? Or get diarrhea?  Will my stomach agree with another bagel? 
Should I have run further? Longer? Faster? Or maybe have done more yoga?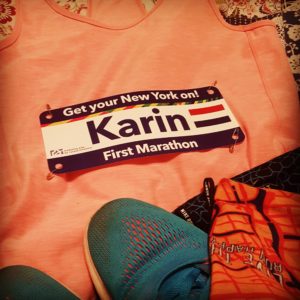 So many little things influence the outcome of this marathon. And because it's my first, I can't rely on earlier experiences. But one thing is for sure: no adjustment this last week will help the outcome any further. The work is done. Just one more thing left to do: keep positive. Have faith in my training and my body. And the fact that I won't be alone in this. So many are running their first with me. All have the same anxieties. Are nervous. Excited. Others have run the NYC marathon many times and are just as nervous as us first timers. Because really, that is what a marathon does with you. It's a distance that messes with your head.
The marathon is a distance that messes with your head!
That will bring pain you didn't experience in training. That will rattle your stomach. If the flight in didn't take care of that for you.  Or the food you aren't accustomed to eat. The wind can be headstrong, so can the rain. And so we tell each other we can indeed do this. We answer each other questions. People whom never met each other, share one passion and support one another. Positive power at its best. That is the attraction of the TSC NYC marathon.  Indeed, the distance is the challenge I've given myself when I turned 50. But it's the people that give me the energy. And give me the trust that I can indeed do this. This is what I trained for this whole year. And now here it is. This is my moment. This our moment. Let's do this!

NYC marathon. Ready or not: Let's do this!