A reaction below one of my running articles brought a new adventure into my playing field. "If you're interested in running a marathon and being able to shop the next day in NY, try Sportrusten.nl! " was the advise of Kitty Kilian** I was forced into a running break ( more about that here!). And if you can't run, you'll find your comfort in the best next thing: you read about running. And that's how I found out about the Running revolution. It is a book about running a marathon, but the schedule never exceeds 14k. How is that even possible? Of course the notion of running a marathon while your mileage never reaches more than 14k was titillating, at the least. It goes directly against all I learned the last year. And I had a lot of questions when I started reading. How will you be able to run 42K while your body has never experienced a run over 14K. Isn't it lazy if you want to run a marathon without the willingness to put in the hours?
The last thing you want to find out during your race, is how your stomach will hold out after 20K. 
I tremendously enjoy my long runs, those are the hours I relax the most. Now I have to pass on those? How can your muscles and body adjust to a distance if you never run that distance. How can you practice with your food, gels or hydration if you don't run those kilometers? How do you know how your stomach will hold up after 20K? Believe  you me, that's the last thing you want to find out on race day.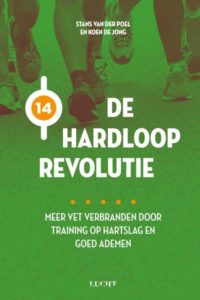 In my last article I followed the training plan of Jeff Galloway. That schedule brought me, a 50 year old, menopausal woman, smoothly to a half marathon distance, every other week. Until I got sick. And I didn't give my body enough time to recover. But now, reading this book I understand it is quite possible I got sick because I had asked too much of my body and that that is the reason I got sick. The book, written by Stans van der Poel and Koen de Jong has made quite the stir in the running community. Of course completely passed me by. I was too busy building mileage. But what if the writers are right? I am not the first runner to question their sanity. running faster by minding your breathing and heartrate. And running a marathon by not training above 14k. Less strain on your body. Your heartrate determines if your body healed enough to train again. A beautiful principle.  That's why I bought my first running watch yesterday. Not to determine my routes or speed, but to keep tabs on my heartrate.  
Burning more fat and training less, by training on your heartrate en minding your breathing rhythm. Is that even possible? 
I love a challenge. I mean, how else did I end up here, preparing for my first marathon on my 50th. And because the Sportrusten plan is only 100 days, this means it should get me ready for a marathon right in time for the NYC marathon in November 2017. If I start now, that is. There is always the possibility it will end in disaster of course, and I won't be able to run past 20K. Is that a risc to take with my first marathon ever? I'm going to give it a go. Like I said last time: wish me luck!
** If you don't know Kitty Kilian, and if you're interested in getting better at blogging, look her up: www.deblogacademie.nl. She is the ultimate mentrix. If Kilian tells you to do something, you just do it. That's why I immediately looked at Sportrusten when she advised me to do so. 
Can you run a marathon while training no further than 14k