En iedereen die mij kent gelooft er niks van. Jij! Gestopt met roken!? Ik hoor de twijfel, ik zie de bedenkelijke gezichten. Voor hoelang dit keer? Want tja, laat ik eerlijk zijn: ik ben al zo vaak gestopt dat het inderdaad ongeloofwaardig wordt.
Ik ben een gewoonte mens. En gedurende dertig jaar (met tussenpozen van zwangerschappen en stoppogingen) stak ik 's ochtends als eerste een sigaret op, vaak nog vóór het douchen. Pauze op het werk? Sigaret.
Vrijdagavond onderuit zakken? Sigaret. Stressmoment? Sigaret. Wachten op de tram? Sigaret. Het laatste dat ik deed voor het slapengaan? Sigaret. Maar ik moet de ongelovigen helaas teleurstellen: ik zit op stopdag 74. En ik ben trots op mezelf. Want het is me gelukt de gewoonte te doorbreken!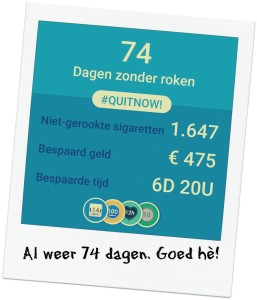 En er gaan dagen voorbij dat ik niet eens aan roken denk. Of nee, dat is niet waar, want waar je ook kijkt, rijdt, fietst, eet, echt overal zie je rokende mensen. Dus je wordt als ex-roker de hele dag geconfronteerd met roken. Om nog maar te zwijgen over het feit dat in mijn woonplaats op bijna elke hoek een tabakspeciaalzaak zit. En dat sigaretten zelfs bij de Kruidvat verkocht worden. En dat al mijn collega's roken.
FunFact: Per opgerookte sigaret gaat € 0,22 naar de belastingen in de vorm van accijns of BTW. Rook je een pakje per dag dan maak je per dag elke € 4,35 over naar Den Haag. Bron: Jellinek kliniek
Dus laat ik het anders zeggen: er gaan hele dagen voorbij dat ik géén aandrang heb om te roken. Dat is voor mij een vreemde gewaarwording. En elke keer weer dat die realisatie tot me doordringt, maak ik een mentaal vreugdedansje. Een heel klein feestmoment voor mezelf, als ik besef "He! Normaal zou ik nu een sigaret gepakt hebben, maar ik heb zelfs geen trek!"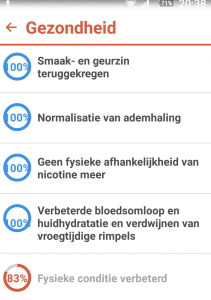 Morgen stop ik!
Maar stoppen met roken is zeker niet het makkelijkste wat ik ooit heb gedaan. Voor mensen die nooit gerookt hebben, is het niet voor te stellen. Maar je bent een slaaf van die sigaret. Echt, het is een afhankelijkheid. Het heet niet voor niks een verslaving. Ooit had ik een collega die de diagnose longemfyseem kreeg. Met het verslechteren van zijn lichamelijke conditie, ging ook zijn ademhaling steeds moeilijker.  Op een gegeven moment kon hij de trap naar de eerste verdieping niet meer opkomen. Je zag hem letterlijk wegteren. Maar elke werkdag was er één ding dat hij als eerste deed zodra hij de eerste verdieping had bereikt: hij sleepte zichzelf naar de rookruimte en stak een sigaret op. En elke dag weer zei hij: Morgen stop ik. En elke dag dacht ik: waarom stop je nu niet?
Het antwoord op die vraag is heel eenvoudig: juist in die stressvolle tijd had mijn collega die sigaret nodig. Ondanks de wetenschap dat het roken hem zijn leven kostte, dat zijn longen het uiteindelijk zouden begeven en hij zou stikken. Die sigaret was hem dierbaarder dan zijn eigen leven. En het ergste is: ik begrijp het! Want ik kan je niet beloven dat ik in dezelfde situatie niet hetzelfde destructieve gedrag zou hebben vertoond.
Natúúrlijk zijn er ook dagen dat ik aan het vechten ben tegen de aandrang. Vorige week werd ik op een ochtend wakker en ik had gedroomd dat ik gerookt had. Die hele dag was ik bezig te vechten tegen te drang om te bietsen. Eén sigaret. Eén trekje. Maar als ik iets geleerd heb van al mijn mislukte stoppogingen: er is niet zoiets als één trekje. Dat ene trekje leidt altijd tot éen sigaret, en vervolgens éen pakje. En voor je het weet rook ik weer 1 pakje per dag. Dus ik besef best dat ik er nog lang niet ben. En dat ik op moet passen om niet opnieuw voor die sigaret te vallen. Ik heb de eerste set gewonnen. Maar de game is echt nog niet afgelopen.
TL;DR: Minder belasting betalen is eenvoudig: Stop met roken!
Ik ben gestopt! Ja, echt!