It is time! I ended the Spring Fitness Challenge. Remember? Six weeks ago I declared war to the kilos I gained after I quit smoking. On May 5th I had a check in with the local gym and we -my coach and me – set a goal: shake of some fat and get stronger to run better. If I'd loose some weight in the process that would be a huge bonus. Because the 14 extra kilos that steadfastly clung to my body, really started to bug me. Big time! My coach and I worked out a schedule in which I ran two times a week and did some strength training two times a week. The same time I started to participate in the highly motivating A year of Running challenge that Mark Zuckerberg started. #werun365 ends in December 2016. And now the six weeks of the spring challenge are up. Results?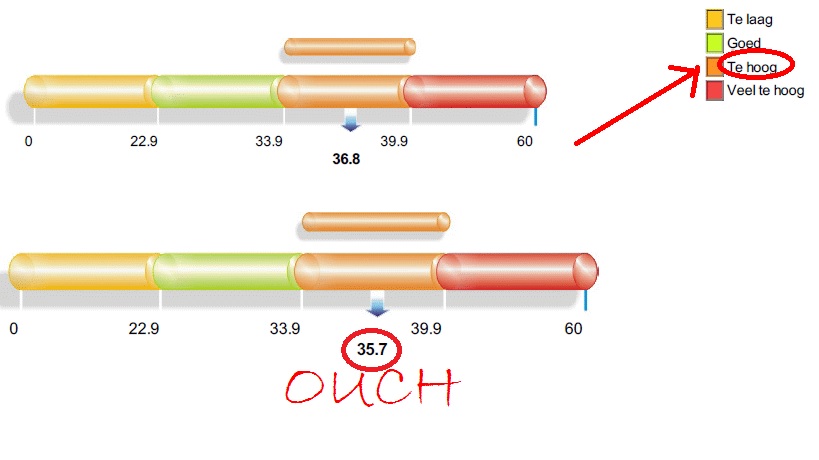 Yep, that's right. The result is hardly motivating, isn't it. It's not only that I didn't loose any weight during the six weeks of the Spring Challenge, I also didn't get my fat percentage back to the green 33% I had in mind. Maybe I was too optimistic? Or wasn't I? If we look at ALL the numbers and leave the kilos for what they are, we can draw some interesting conclusions from them. Enough positive thoughts at least to prevent me from burying myself under a layer of blankets with a bucket of Ben&Jerry's.

When I started out with the Spring Challenge my fitness level was elite. Big salut for my running! That meant there was little room for improvement on that score. My lung capacity, oxygen levels, heart rate and blood pressure all told the same story: running can be very good for your health. There is a big but though. If you run, and only run, you risk overuse of your running muscles. Result: injuries in your knees, calves, feet or shins. Or if you're really unlucky: in all. Especially when your body is adjusting on a whole other level: hormonal. The menopause will not make it  easier to adjust to the running if you do it too fast. By strengthening my core and my glutes in the gym I have run the last six weeks more kilometers, without pain in my knees, my shins or my calves. The running came easier. Not only that, I could run farther! 
See this? Here I ran 5K in almost 39 minutes. A beautiful and relaxing Sunday morning run. This was my pacing before I started to workout in the gym six weeks ago. Now, compare that to my after work run I did last Friday:
Yep! That's right: not only did I run 8k, something I wouldn't have dreamt of a couple of weeks ago, but I ran it in 50 minutes! Two months ago it took me 39 minutes to complete a 5k, with walking breaks. Thanks to my gym workouts I not only can run further, but faster too! Without pain. Without walking breaks. That is actually something to be proud of. Proud enough at least to be positive about the 10k that is hanging over my head! Because, lets not forget that other challenge I took on a bit enthusiastically: #werun365. On July 10th I will run my first 10K ever. Me! Never ever run more than that 8 kilometer last week. But…thanks to my coach at the gym, I trust I can accomplish that. Without injuries. And I promised myself that whatever happens, I will finish. With a smile! Who cares I didn't loose any kilos? I can run a 10K!
Aaaaaand this is how my Spring Challenge ended